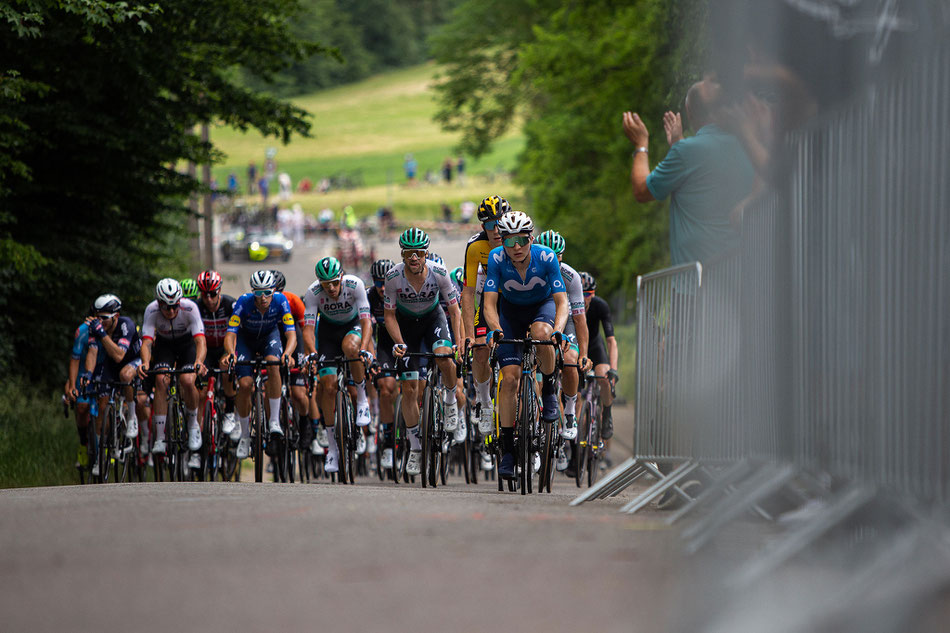 It was the nationals weekend and thanks to Team Embrace The World I was able to be a part of the German mens road race on Sunday in the region of Stuttgart. Winter was over just two weeks ago, we completely skipped spring and dived right into tropical summer with demanding 36° C in the shadow during Saturdays individual time trial. Sunday started with some rain, but it was as humid as it gets in southern Germany and the temperatures went rocket ship during the day, tough conditions, but as everyone had to deal with them it was fair play!
199 colorful dressed lads made their way to the start - on the menu, 25 laps, 185 kilometer and 3.050 meters of climbing. After 7 kilometers of neutralization, the race was started and the boys from world tour team Bora-hansgrohe picked up the speed. Some riders were dropped on the very first climb and from this point on it was no more fun and games. One Bora-Rider after another made his effort to keep the pace high, hands down, they were present with 8 riders, so nothing else was to be expected. 
After 100 kilometers and many casualties to the heat and speed, the race situation settled in a bit. Bora always had someone in the front attacking and once the chase group got close to the front of the race, another attack went. Closer to the end of the race, with only around 50 riders left, the momentum went towards Georg Zimmermann and Jonas Koch from Team Intermarché Wanty-Gobert. Bora just couldn't manage to drop them and Maximilian Schachmann and Emanuel Buchmann had to pull all sorts of tricks to get rid of Zimmermann.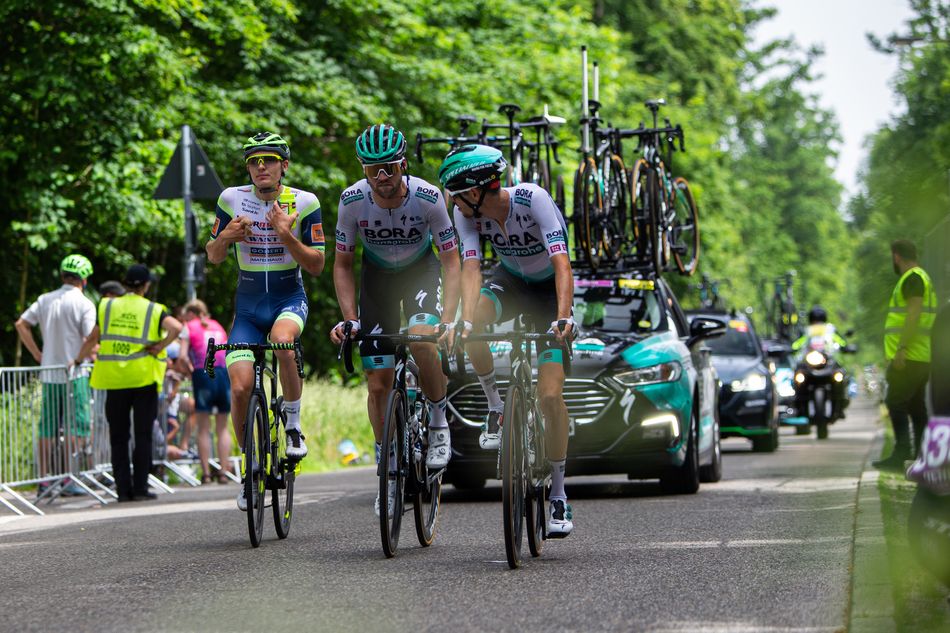 During the last two laps one of Bora's attacks finally had an impact to Zimmermann and he couldn't keep up anymore and dropped towards the final climb. Schachmann sealed the deal with a final deep dig and secured the German nationals title of 2021 - congratulations! Also congratulations to Georg Zimmermann and Jonas Koch who finished second and third!
A real highlight of the day was Benedikt Helbigs (Embrace the World) effort during the whole weekend, he didn't just finished 8th overall in Saturdays time trial, he also lasted a major time inside Sundays race and after putting a lot of effort into a sustainable chase group he decided to went alone! A lot of panache and promising efforts!
I really enjoyed being a part of a world tour race as a photographer, but really need to get my hands on a faster camera, the 6D is a beautiful and hard working thing, but can't keep up with the speed of a road race. Major issues are the 9 focus points and the 4 frames per seconds, what is a bit painful to be fair. Next planned race is going to be the Baltyk - Karkonosze Tour in Poland in the end of July. If you're with a team and need a photographer or if you're selling a Canon 5D IV, hit me up! Following you'll see all my photos of the race, many thanks for your attention!